Sparrow and Brambles was called to redesign the gardens of an older, farm style home in Colts Neck.  The project began this last Spring in the front where we installed a new walkway. Using classical design to match the home, simple forms and arch tangents were used to create a stately, but humble entrance to the house. Plantings will be added in the spring of 2015.
The rear yard has been a whole different approach. There was an existing deck, concrete pool and many grade changes that create challenges for the new design.  The homeowners wanted a more naturalistic look with waterfalls, boulders, and lush plantings.  The existing hardscape was old pressure treated, painted decking, and solid plain concrete around the pool.  Well those were the first to go!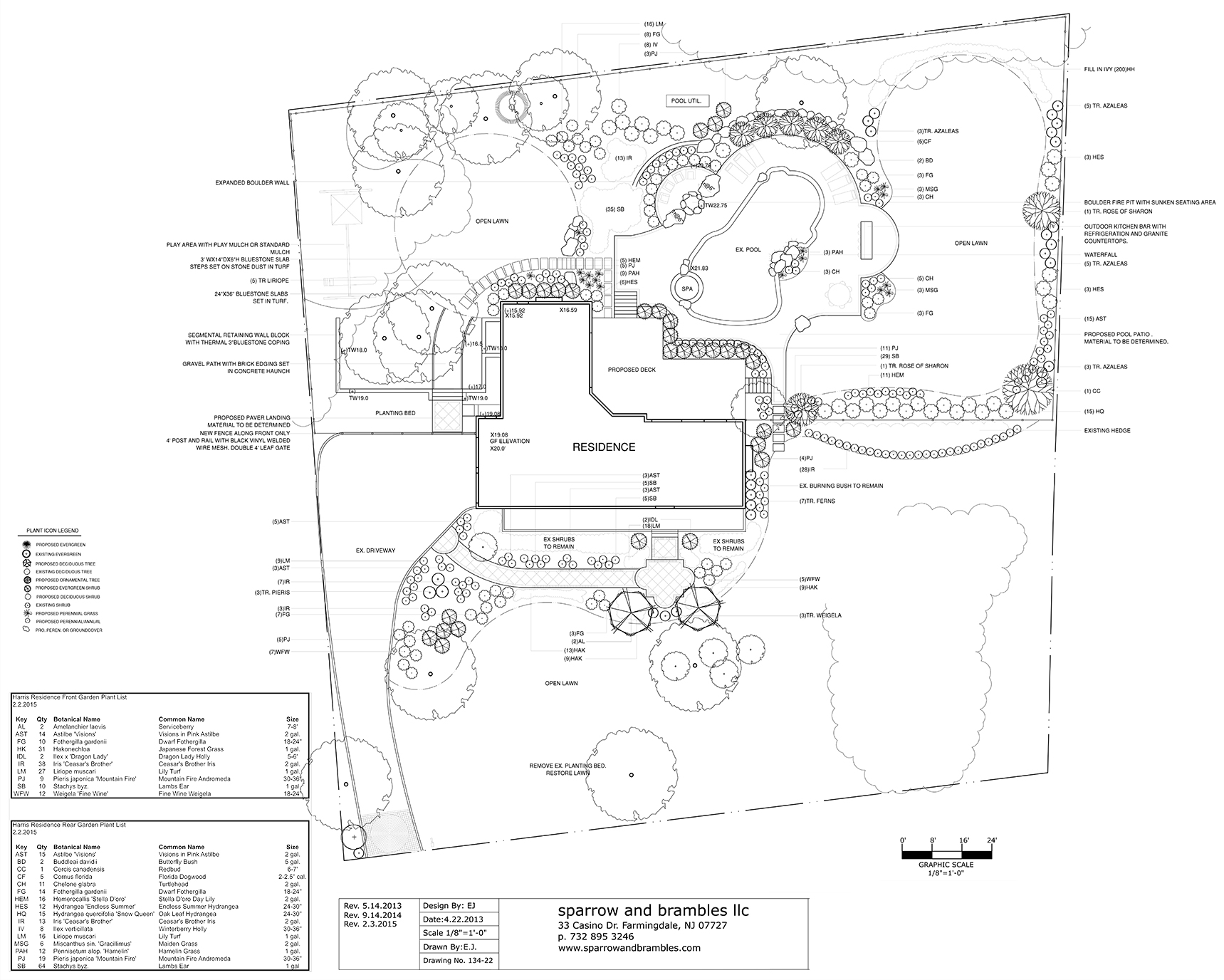 CLICK PHOTO TO EXPAND
The new plan calls for a redesigned deck that could utilize the framing from the old deck.  We expanded in some areas, pulled back in others, and relocated the staircases for better flow throughout the different levels of the garden. Trex decking was used as the material, and with the Transcend line in Spiced Rum tones that picture frame the Tiki Torch colored inlay, this new deck has a  natural, warm feel with the low maintenance of a composite.  Trex is 95% RECYCLED plastic and wood, so it's a great eco- friendly option! The deck is near completion and will be ready for use in the Spring.
The existing pool is getting a face lift! We are removing the old coping, tiles, and pool lines and installing more natural elements.  A moss rock waterfall will be the new focal point to the pool. More moss rock will be added as accent pieces that cut into the coping and throughout the new pool deck.  Earth tone tiles will be installed along with a bull nosed coping that will give the pool a more modern, naturalistic feel.
Once the pool is complete, work will begin on new paver pool decking, an outdoor kitchen, boulder fire pit, and low maintenance and native plantings. The hope is that by late spring, the rear gardens will be ready for fun and relaxation.